Focus on Safety
WE ALL TAKE A PART IN SAFETY!
In order to maintain a safe workplace, it takes a joint effort. Safety is a win-win partnership between our clients, us, and you!
---
WHY IS SAFETY IMPORTANT?
A serious workplace injury or death changes lives forever for families, friends, communities, and coworkers. Every person that leaves for work should expect to return home in good health. It is each worker's responsibility to take an active role in maintaining safety in the workplace.
---
SAFETY TIPS
Watch, Listen & Learn during training
Personal Protective Equipment (PPE) – is crucial in the prevention of injury, so ensure you wear it and wear it properly.
Watch where you place your hands
Be visual of your surroundings
Pay attention to what you are doing
---
PREVENTATIVE MEASURES
Training – Focus provides training and education to employees and staff on the job, including the location of hazards or hazardous materials (HAZMAT).
Housekeeping – Keep a clean and orderly workstation
No shortcuts – Perform the job according to protocol and your written job description. If someone asks you to do something that you feel is unsafe or not protocol, don't do it and contact Focus immediately.
Stretch – Warm-up before the start of your day.
---
REPORTING:
If you want to report a workplace injury, please contact your local branch and/or your Focus onsite manager.
Workwise™ Safety & Attendance Program
Want to make more money? When you become a Focus employee, you will be eligible to participate in our Workwise program which allows you to make more money! Because we staff industrial positions exclusively, safety is serious business at Focus. WorkWise™ is our formal employee safety training and reward program based upon the combination of two nationally acclaimed safety programs, SafeStart and Dupont's STOP program.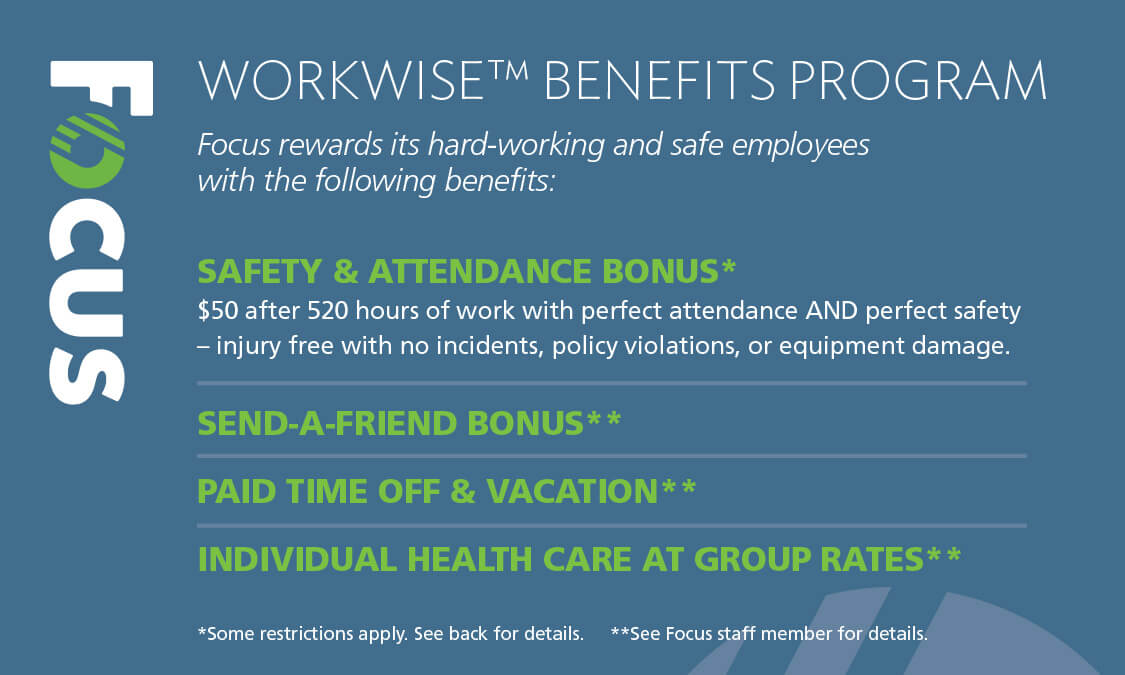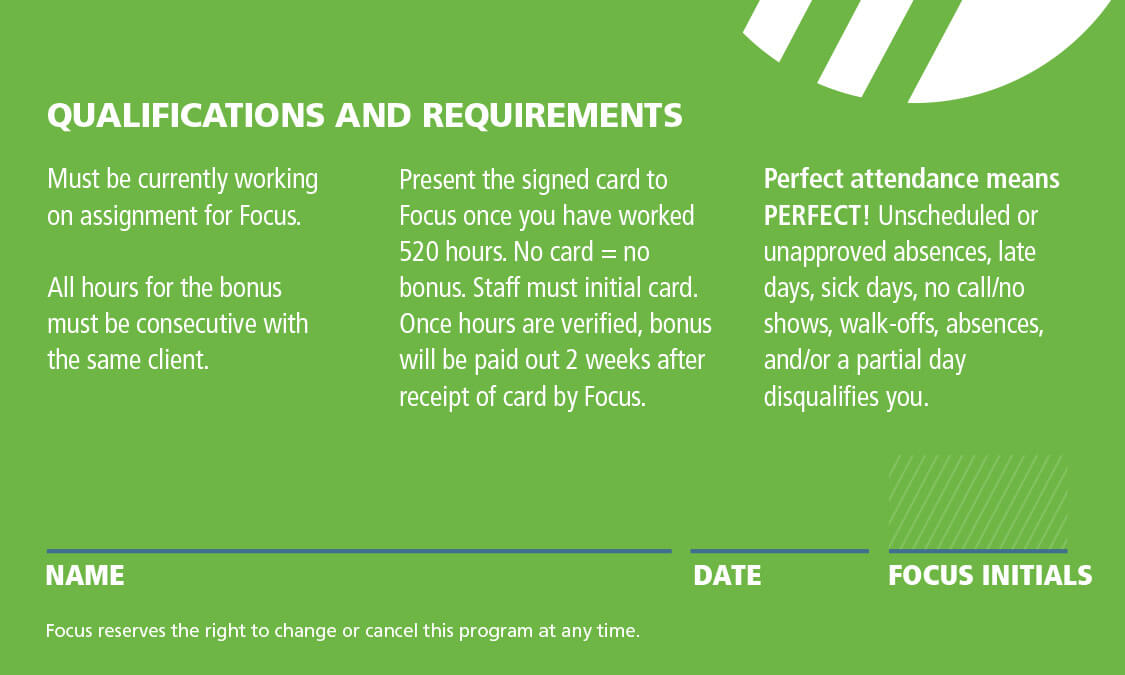 Equal Opportunity
Focus is uniquely positioned to help you with your employment needs. Our team is trained specifically in hiring for manufacturing, logistics, and distribution jobs.
All job descriptions on this website are a synopsis and are not designed to be a complete list of all duties, responsibilities, and safety requirements. Your job application is not complete until you visit a Focus office and complete other required in-office paperwork.
Focus is an equal opportunity employer and considers all applications without regard to race, sex, age, color, religion, national origin, veteran status, disability, genetic information or any other characteristic protected by law.
If you would like to request a reasonable accommodation, such as the modification or adjustment of the job application process or interviewing process due to a disability, please call 913-260-2567 or via email@focusjobs.com
Already a Focus Employee?
Login to view your pay history and update information